Motorsport Preparation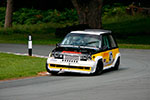 Track Day – Race – Rally – Hillclimb - Sprint
Engine
Chassis
Bodywork
Transmission
Testing where required
We have many years experience in preparing and running race and rally cars, from Clubman events to International events.
In house, we build engines from fast road to full race spec including throttle bodies. From standard rebuilt gearboxes to gearboxes with dog gear kits and limited slip diffs.
We can provide full vehicle chassis dynamic analysis and suspension set-up as required including corner weights.
We also have in house bodyshop facilities so can provide bodyshell upwards car preparation including seam welding and rollcage fitment.
In short, on a professional level we are able to provide any service you may require.
We have in-house ARD's instructors and can offer driver tuition where required.